Dr Benedikt Neuburger > Zimmermann & Partner Patentanwälte mbB > Munich, Germany > Anwaltsprofil
Zimmermann & Partner Patentanwälte mbB
Standorte

Zimmermann & Partner Patentanwälte mbB
JOSEPHSPITALSTRASSE 15
MÜNCHEN 80331
Germany
Dr Benedikt Neuburger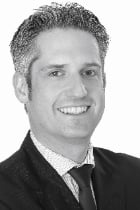 Abteilung
Intellectual Property Oppositions and Prosecution
Position
Partner
Karriere
Dr. Neuburger is a partner at Zimmermann&Partner, an IP boutique firm with several offices in Germany. Dr. Neuburger's background is physics, and he further holds a master and a PhD in economics. He is both a European and German patent attorney.
With over 15 years' experience in the IP field, Dr. Neuburger has focused on patent prosecution, opposition and appeal proceedings. He mainly works in the field of green technologies, power engineering and deposition technology. He has conducted a vast amount of different cases and represented clients in several hundreds of oral proceedings over the years. Dr. Neuburger is the counsel-of-choice for several multi-national stock-listed companies that have built up a high level of trust in his expertise over many years of cooperation. He provides practical solutions by aligning the economic needs and technical constraints to the tactical and procedural aspects of a case. His clients appreciate the symbiosis of in-depth technical and economic understanding with a pragmatic approach.
Dr. Neuburger is author of a high number of publications in the IP field and is regularly entrusted to be a lecturer by the European Patent Office.
Sprachen
German, English
Ausbildung
Dr. Neuburger studied physics in Germany, Italy and Austria. In achieving his diploma, he worked in the fields of quantum computation and fault-tolerant implementations in solid states and photonic systems. After graduating, he continued his studies by attending the economic postgraduate studies titled "Business Research" at LMU where he worked on his PhD based on the economic valuation of patents. In his PhD, Dr. Neuburger examines known valuation techniques and presents a new method for an accurate value determination of patents.
Anwalts-Rankings
Zimmermann & Partner Patentanwälte mbB ist auf streitige Verfahren spezialisiert. Die Kanzlei ist insbesondere in den Telekommunikations-, Medizinprodukte-, Konsumgüter-, Halbleiter- und LED/LCD-Bereichen aktiv und bietet trotz der rein nationalen Präsenz langjährige Erfahrung in der Begleitung von Streitigkeiten mit grenzüberschreitenden Elementen. Man agiert zudem als europäische Patentabteilung für mehrere große US-amerikanische Konzerne. Zu den jüngsten Highlights gehört die Vertretung von Samsung Electronics in dem gegen Apple geführten Rechtsstreit. Die Leitung der Praxis setzt sich aus Benedikt Neuburger (grüne Technologien, Energietechnik und Beschichtungstechnik), Gerd Zimmermann (Festkörperphysik und Elektromechanik) und Joel Nägerl (Elektrotechnik, Telekommunikation und Halbleitertechnik) in München sowie Frank Steinbach (Medizinprodukte, Energietechnik und Materialwissenschaften) im Berliner Büro zusammen.
Lawyer Rankings
Top Tier Firm Rankings
Firm Rankings